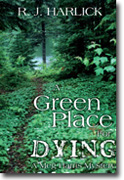 Last night I opened 'A Green Place for Dying', the fifth Meg Harris novel by RJ Harlick, just released by Dundurn.
It's five a.m. and I'm still up.
This is one seductive book. It opened on a moonlit scene by still waters, with a group of mostly native women doing a renewal ritual. Before I knew it I was thigh-deep in soggy brush looking for a missing teenager. Then confronting an angry biker. Now someone else is missing, someone even more dear to Meg.
'A Green Place for Dying' is set along the Ontario/Quebec border, partly in bush and partly in Ottawa. The bush town of Somerset and the neighbouring Migiskan reserve are like the quaint, albeit murderous, village in the Louise Penny novels in that everyone knows everyone else's business, or thinks they do. But here the village store sells venison pie and other wild-based foods instead of the designer dainties of Three Pines' bakery, and the characters are more at home in jeans and deerskin jackets than in high-end sweaters. The story revolves around a touchy social issue: missing native women for whom the police don't bother searching. There's also a deeply unhappy local family with a black sheep brother and a missing daughter that Meg is helping to trace. An old secret in Meg's past is rising to haunt her just when she needs to keep a clear head.
Not noir, and definitely not a cosy despite the lack of on-page violence, this novel is a traditional, suspenseful mystery in a non-traditional setting. The bush is an integral element, its sights, sounds, scents, and textures underpinning crucial scenes and drawing the reader deep inside the tensions and joys of the half-French, half-Native, half-English community with its crisscrossing lines of culture, language, and authority.
You don't need to have read the other books to really get this one; references to past events are understandable in their context. Highly recommended.